Data currently shows that a huge percentage of new HIV cases are amongst young people. Recent studies have shown that the way sex is portrayed on screen influences the way young people have sex. So if we know that using condoms prevents HIV amongst a whole host of other nasties plus unwanted pregnancy, why is condom use so uncommon in movies?
There was an era where the post-coital cigarette was regarded as the ultimate sex on screen moment. In 2015, smoking just ain't that sexy anymore. Lighting up is pretty unanimously regarded as a bad habit and it's on-screen presence has been heavily campaigned against. Smoking in the bedroom now just seems a rather bad and kind of flammable idea – particularly around all of that on-set hairspray and silk sheets.
So if the cigarette is out, what's in? If we're chucking out the cigarette because it's an unhealthy habit to promote, why not slot something in that makes sense to promote? Surely now that we know just how important condoms are to sexual health, they belong in big blockbuster sex scenes?
World Contraceptive Day felt like a good occasion to put together a list of all the best on-screen condom moments. It turned out though, that while searching for "iconic movie sex scenes" churns up endless lists and blog posts, the results for "best movie sex scenes condoms" or "condoms film moments", are sparse. The appearances of condoms on the big screen have simply been too few.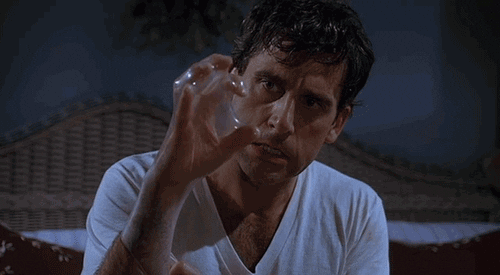 There've been a few– in Sex and the City 2, Samantha drops her bag onto the street in Abu Dhabi, spilling out a load of condoms. In Fifty Shades of Grey, Christian does actually pop on a rubber before taking Ana's virginity – actually quite a victory given that this film has been huge in sparking conversations about sex over the past year. Sometimes, condoms are used as a moment of comic awkwardness, for example in American Pie and The 40-Year-Old-Virgin. In Knocked Up, the comedy's entire plot spins off Katherine Heigl and Seth Rogan neglecting to use a condom.
Any placement of condoms in films is good. Even if it is a comic point of awkwardness, at least it puts condoms on viewers radars and demonstrates that initiating the use of protection is an awkward necessity for all of us. Films like Knocked Up serve as a lighthearted reminder of the risks of neglecting to use a condom during sex.
What is really missing, is the widespread presence of very normalized condom use into films. People in all kinds of relationships should be using them. Condoms need to appear in the sex scenes the viewer wants to imitate.  Product placement exists because there is an assumption that viewers want to imitate the products they see their favourite stars using.
Research has shown a correlation between teenagers viewing a lot of sex on screen and taking risks in their real sex lives. Teenagers aged 12 – 14 who view a lot of on-screen sex are more likely to have sex younger, with more partners and to partake in riskier sexual behaviour. The study revealed that those who watch more sex in movies are less likely to use condoms. It seems very likely that this is related to the fact that the sex they see on screen does not acknowledge that sexually active, responsible adults use condoms. If these 12 – 14 years olds are gaining most of their knowledge of sex from films, how are they supposed to know that using condoms is standard if it never appears.

Behaviour is all about perception. People once thought smoking was sexy just because it was getting linked up with hot stars in steamy scenes. Now condoms deserve their moment in the spotlight. If filmmakers take on a bit of responsibility to portray condoms as a standard part of sexually active person's life, they might actually make a whole lot of difference.

--> -->